Shadow and Bone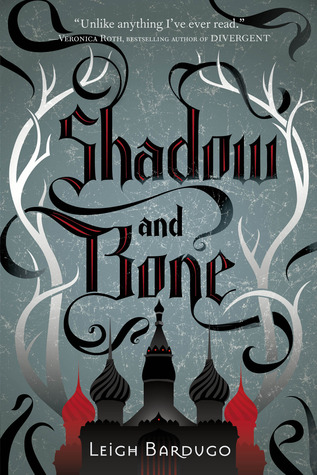 Surrounded by enemies, the once-great nation of Ravka has been torn in two by the Shadow Fold, a swath of near impenetrable darkness crawling with monsters who feast on human flesh. Now its fate may rest on the shoulders of one lonely refugee.
Alina Starkov has never been good at anything. But when her regiment is attacked on the Fold and her best friend is brutally injured, Alina reveals a dormant power that saves his life—a power that could be the key to setting her war-ravaged country free. Wrenched from everything she knows, Alina is whisked away to the royal court to be trained as a member of the Grisha, the magical elite led by the mysterious Darkling.
Yet nothing in this lavish world is what it seems. With darkness looming and an entire kingdom depending on her untamed power, Alina will have to confront the secrets of the Grisha . . . and the secrets of her heart.
Shadow and Bone is the first installment in Leigh Bardugo's Grisha Trilogy.
(Warning: There are some spoilers in this discussion so this is a warning, you can't blame me if you find spoilers now)
To see the first part of this discussion, visit Lauren's blog here!
Kaitlin: Yea, that's something I definitely cut slack on because it's only the first book of a trilogy and I guess there won't be much to learn about her that super in depth because she was an orphan…unless her parent's death is somewhat important….
Lauren: That's true. I hadn't thought of that! Maybe that's relevant somehow…
Kaitlin: I wouldn't be surprised seeing of how Leigh Bardugo has planned out her events in this book.
Lauren: Yep. What did you think about the love triangle? People tend to have mixed feelings on love triangles in general.
Kaitlin: Honestly… I'm with Mal this time. They have been friends for so long and I am a huge sucker for those kind of romances. The Darkling…I don't even know his real name!
Lauren: So true. I'm a huge fan of childhood best friend romances. I lean towards that too.
Kaitlin: I don't know…when The Darkling first kissed Alina I was thinking "Okay…this is new." And I kind of thought of it as a way to forget about Mal, and Leigh telling me that Malina would never become a thing but when Mal first kissed Alina I was having a freak out session because of how happy I was.
Lauren: HAHA same here! My favorite part through was definitely the world-building. I absolutely loved the map in the front of the book and found myself referencing it a lot. I loved learning about the types of Grisha, even though it was kind of confusing at times to keep all the Russian-like words straight.
Kaitlin: It's Russian?! What…wow. I never knew that… Yeah the world would be fun to live in but not under the Darkling's rule. Maybe in Shu Han…
Lauren: I think so, haha I saw other people talk about it. It's some play on the Russian language I believe.
Kaitlin: Ahh, okay. Yea I thought the names for certain things were very interesting.
Lauren: Me too. Very creative though! Anyways, what are some of your final thoughts on the book? What do you end up rating it?
Kaitlin: I rated it a 4 which is me basically Loving it. It was such an eventful and faced paced read. The writing was pretty good quality and this book basically set the whole entire trilogy up. I think we have one set problem that is just going to be what the rest of the trilogy is and how Alina will solve it.
Lauren: Agreed, completely! I'm constantly baffled by how authors come up with the plots for their books. I'm always asking myself what the heck could possibly happen next. I gave it 4.5 stars, with the only flaw being the small lack of personality in Alina. Like I said, I think that will change over time. She's almost like a blank canvas that will be developed as she comes into her powers. I loved Bardugo's writing too. I'm glad you liked the book – I'm excited to read the next book in January! That feels so far away.
Kaitlin: Hello (agonizing) 2 month wait to finally read Siege and Storm!
Lauren: We set ourselves up for that thought when we decided to read the series 😉 Oh well, hopefully it's worth the wait!
Kaitlin: Yes! Hopefully it is.
Thanks for reading! Hope you enjoyed!