More Pages Monday is a meme created by Kaitlin at Next Page Please! where you tell about a book you wanted more pages to. It could be a better or longer epilogue. A longer/better ending or just you felt like something is missing. Explain why and maybe give us a little blurb of these extra pages if you were to write it and what would happen at these extra pages. If you want more a challenge then try to include spoilers…but good luck with that. 😉
Book that needs more pages to…
My Life Next Door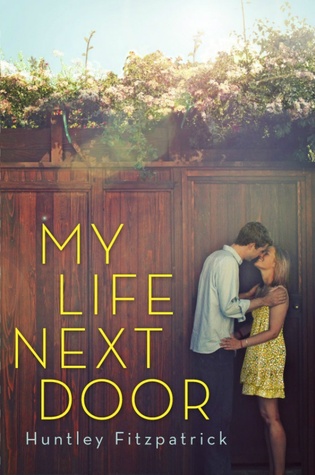 "One thing my mother never knew, and would disapprove of most of all, was that I watched the Garretts. All the time."
The Garretts are everything the Reeds are not. Loud, messy, affectionate. And every day from her rooftop perch, Samantha Reed wishes she was one of them . . . until one summer evening, Jase Garrett climbs up next to her and changes everything.
As the two fall fiercely for each other, stumbling through the awkwardness and awesomeness of first love, Jase's family embraces Samantha – even as she keeps him a secret from her own. Then something unthinkable happens, and the bottom drops out of Samantha's world. She's suddenly faced with an impossible decision. Which perfect family will save her? Or is it time she saved herself?
A transporting debut about family, friendship, first romance, and how to be true to one person you love without betraying another.
Why do I want more pages?
(Minor spoilers)
This was such a cute and lovely dovey book. I was so sad when the book came to an end. The reason why I want more pages is because I want to know what happens between Sam and Jase and Jase's dad. I know Huntley is writing another book but it is kind of surrounding Tim…so obviously and you know typical me, I need more of Sam and Jase.
What would I write about?
Probably something about Sam and Jase. Honestly I read the book awhile ago and can't remember whether Sam had graduated college or not yet but the blurb down there in this post…yea that's after I thought of something to write about XD.
Blurb:
When I returned back to school for my senior year I guess I was excited to go back. After my mom had payed for Mr. Garret's medical bills and we moved houses, thing's got very busy. Tracy had moved back into college and my mom decided to take a break from politics. Now, she was a part time care taker of the Garret's kids and was now studying to become a teacher….in politics. So it wasn't a huge break on politics, she just wasn't in the political run. Jase was kind enough to drive me to school on the first day even though I was totally capable of driving myself but Andy and Alice had to be chauffeured by Jase as well so he decided to bring me along. The car pulled up to school and Andy and Alice jumped out of the car. I guess I had nothing to be very excited about since the only person I talked to now was Nan.
"Have a good day," Jase said to me.
"Thanks, have a good day at the shop," I said and smiled. He leaned in to kiss me and then I left. Just like that, my school life had begun.
Thanks for reading! Hope you enjoyed!