More Pages Monday is a meme created by Kaitlin at Next Page Please! where you tell about a book you wanted more pages to. It could be a better or longer epilogue. A longer/better ending or just you felt like something is missing. Explain why and maybe give us a little blurb of these extra pages if you were to write it and what would happen at these extra pages. If you want more a challenge then try to include spoilers…but good luck with that. 😉
Book that needs more pages to….
Since You've Been Gone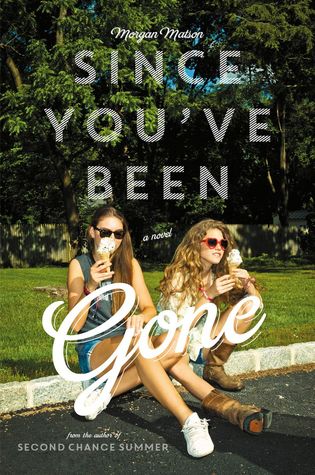 The Pre-Sloane Emily didn't go to parties, she barely talked to guys, she didn't do anything crazy. Enter Sloane, social tornado and the best kind of best friend—the one who yanks you out of your shell.
But right before what should have been an epic summer, Sloane just… disappears. No note. No calls. No texts. No Sloane. There's just a random to-do list. On it, thirteen Sloane-selected-definitely-bizarre-tasks that Emily would never try… unless they could lead back to her best friend.
Apple Picking at Night? Okay, easy enough.
Dance until Dawn? Sure. Why not?
Kiss a Stranger? Wait… what?
Getting through Sloane's list would mean a lot of firsts. But Emily has this whole unexpected summer ahead of her, and the help of Frank Porter (totally unexpected) to check things off. Who knows what she'll find?
Go Skinny Dipping? Um…
Why do I want more pages?
(Some minor spoilers…just brace yourself for spoilers)
I thought this book was a great book and the ending was pretty satisfying but I have so many unanswered question to this book. What happens to Dawn and I also want to know what happens after the book and we go back to school with Emily and I really want to know what happens to Gideon too.
What would I write about?
(Spoilers
I'm sorry)
Well I honestly I really want to know what happens to Dawn. I was really sad when I found out what happened to her and I really like her and the relationship she had with Emily. I just really didn't like the ending Morgan gave her.
Blurb:
I was walking toward the ice cream shop when I pasted by Dawn sitting alone outside of the pizza restaurant. I haven't talked to her for about 3 weeks after Frank and I came back from finding Sloane. I had called her a few times after but eventually I gave up because I knew it was going to be awhile before she even acknowledged me assistance again. I walked past her as she was taking another sip of her drink and was about halfway from her table to the ice cream shop door when I heard my name called from behind. I turned around and faced Dawn with her sunglasses perched on top of her head.
Thanks for reading! Let me know if you have any suggestions and feel free to do this meme yourself if you would like. Hope you enjoyed!