This cover actually got released less than a week ago but I wanted to share my thought with this cover….even if it's a little late.
The Heir (The Selection #4)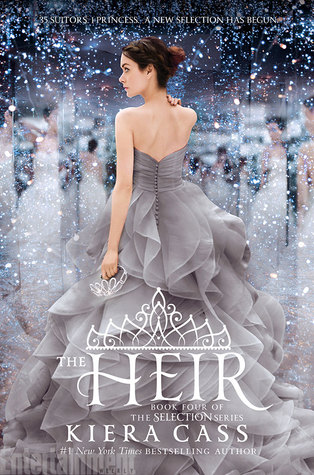 Twenty years ago, America Singer entered the Selection and won Prince Maxon's heart. Now the time has come for Princess Eadlyn to hold a Selection of her own. Eadlyn doesn't expect her Selection to be anything like her parents' fairy-tale love story. But as the competition begins, she may discover that finding her own happily ever after isn't as impossible as she always thought.
The rest of the series
I have to admit…I really like this cover. I have to admit though, I kind of miss the model for America now but I guess i'm just not used to the model for Eadlyn. I like how the cover contrasts for America's covers because she had white and another color but this cover has grays and purples and I like that. I also like how they kept the mirrors with this cover and it kept some of the previous covers features.
One thing I always love about the covers…the dresses! This dress is so beautiful in these covers and I think it look great on this cover. If you have any thoughts on the cover make sure to share them with me in the comment section!
Thanks for reading! Hope you enjoyed!