Welcome to the interview with Let's Get Lost author Adi Alsaid. Hope you enjoy!
1. What was it like to write from various perspectives?
It actually felt natural to me. I've always loved multiple perspectives, as a reader, a writer, as someone who simply likes getting in other people's heads. I want to get inside as many characters' heads as a given story will allow. Maybe my favorite part about Let's Get Lost is the multiple perspectives, how Leila, the protagonist, is being seen through the eyes of these four different teens. I'm pretty sure I'm not the only one that often wonders how others see me, what I look like in the eyes of someone else. And it's a joy to get to explore that in writing.
2. Was there a secret message in the book that you wanted for readers to find?
Not that I was consciously aware of. I think writers sometimes come across as smarter than we really are, because we sit down and write and we want to tell a story, and maybe we have certain themes in mind, or maybe our subconscious is throwing them in without us really picking up on it. Then smart readers come along and find those themes, or they make connections within the book that are there even though we the writers never realized it. I got an email from a reader recently, who pointed out something he loved about Let's Get Lost.
"The main thing I loved about Let's Get Lost was the way it relentlessly insisted on how good and fascinating all people really are, no matter how muddled or misguided they might be.  It was a sense of wonder, I guess, a thrilling observation of the little things that make people great.  I loved how Hudson and Leila bond over these little things–the ant hills, the pile of bowling shoes, the bathroom chalkboard.  Little things, little treasures.  To me, this is really the main thing to take away from the book.  Life is fascinating, people are amazing, all in these secret little ways we just have to tap into."
Do I agree that it's a message in Let's Get Lost? Absolutely. Did I realize it was one until the reader wrote his email? Not really.
3. How did the title "Let's Get Lost" get created for this book?
No fun story here. Unfortunately, I'm not very good with snappy titles. The book was saved into my computer as "Northern Lights" then "The Lights", before my editor from Alloy, Emilia Rhodes came up with it.
4. Favorite thing about thing about this book?
Well, I could point to the above email from the reader. But really it's emails from readers in general. It's the fact that it's out there, and that people have been enjoying it, connecting to it, even though it's no longer in my hands. This is my debut, and it's a dream come true to see my name on the shelves of bookstores, getting to travel for bookish events, interacting with so many other people who love books (readers, potential readers, bloggers, librarians, booksellers, authors, etc).
5. 3 words to describe the cover.
Pretty map words?
Adi Alsaid
Adi Alsaid was born and raised in Mexico City, then studied at the University of Nevada, Las Vegas. While in class, he mostly read fiction and continuously failed to fill out crossword puzzles, so it's no surprise that after graduating, he did not go into business world but rather packed up his apartment into his car and escaped to the California coastline to become a writer. He's now back in his hometown, where he writes, coaches high school and elementary basketball, and has perfected the art of making every dish he eats or cooks as spicy as possible. In addition to Mexico, he's lived in Tel Aviv, Las Vegas, and Monterey, California. A tingly feeling in his feet tells him more places will eventually be added to the list. Let's Get Lost is his YA debut.
| Goodreads | Twitter | Blog | Facebook |
Adi's Books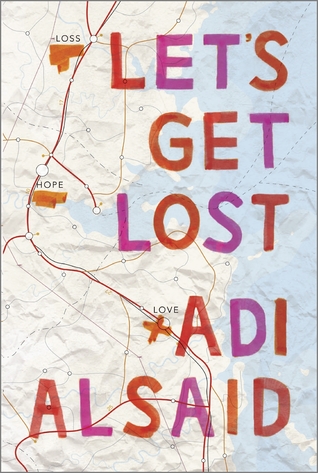 Five strangers. Countless adventures. One epic way to get lost.
Four teens across the country have only one thing in common: a girl named LEILA. She crashes into their lives in her absurdly red car at the moment they need someone the most.
There's HUDSON, a small-town mechanic who is willing to throw away his dreams for true love. And BREE, a runaway who seizes every Tuesday—and a few stolen goods along the way. ELLIOT believes in happy endings…until his own life goes off-script. And SONIA worries that when she lost her boyfriend, she also lost the ability to love.
Hudson, Bree, Elliot and Sonia find a friend in Leila. And when Leila leaves them, their lives are forever changed. But it is during Leila's own 4,268-mile journey that she discovers the most important truth— sometimes, what you need most is right where you started. And maybe the only way to find what you're looking for is to get lost along the way.
Thanks for reading! Hope you enjoyed!