Seize the Tuesday is a book blogger meme created by Adi Alsaid and the Let's Get Lost Buddies Street Team, to share stories about how we've seized the Tuesday, with a special focus on the particular book we're reading. We'll post on as many Tuesdays as possible and share our posts online with the hashtag:#LetsAllGetLost. If you loved Let's Get Lost then join the LGL Buddies on Facebook and help promote the book!
Currently reading….
The Blood of Olympus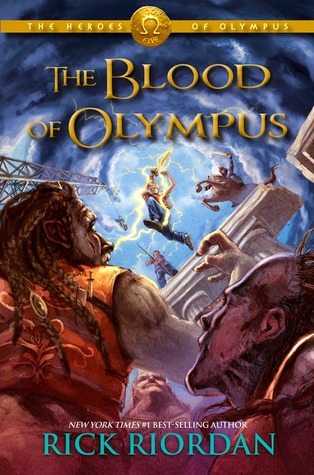 (Actually going to start this very very soon)
Though the Greek and Roman crewmembers of the Argo II have made progress in their many quests, they still seem no closer to defeating the earth mother, Gaea. Her giants have risen—all of them—and they're stronger than ever. They must be stopped before the Feast of Spes, when Gaea plans to have two demigods sacrificed in Athens. She needs their blood—the blood of Olympus—in order to wake.
The demigods are having more frequent visions of a terrible battle at Camp Half-Blood. The Roman legion from Camp Jupiter, led by Octavian, is almost within striking distance. Though it is tempting to take the Athena Parthenos to Athens to use as a secret weapon, the friends know that the huge statue belongs back on Long Island, where it "might" be able to stop a war between the two camps.
The Athena Parthenos will go west; the Argo II will go east. The gods, still suffering from multiple personality disorder, are useless. How can a handful of young demigods hope to persevere against Gaea's army of powerful giants? As dangerous as it is to head to Athens, they have no other option. They have sacrificed too much already. And if Gaea wakes, it is game over.
How did I Seize the Tuesday?
I changed my blog title today! Yup. I'm not sure if you noticed but it is now Next Page Please! I guess I didn't really like YA, YA and More YA as much as I did when I first changed it. I maybe changing the blog URL but I need to plan that out a little more carefully. Another thing that happened to be this week is I am now for sure going to be going to a Marie Lu book signing! I've been reading her for about a year now. I'm so excited for it and may do a giveaway if I do get any extra swag.
So how can you Seize the Tuesday? Well go outside, learn something new, pamper yourself! Spread around this Seizing and enjoy the day! Or should I say…Seize?
Thanks for reading! Hope you enjoyed!