August (and school) is heeerrre and has arrived! So I have told myself August was going  to be my review month. I'm going to read all the books for review and blog tours and clear that all out. So onto the TBR!
The first book I am going to read is Harp's Song by: Cassie Shine. This is an eARC I got from NetGalley and I have yet to read it.
In just a few months Harp Evans will be officially coming of age and graduating from high school. She will be free from the mother that never wanted her, the house that never felt like home, and the disappointment of the last seventeen years. What she doesn't know is that her mother has been holding onto a secret that has the potential to derail her dreams and destroy her already faulty sense of self.
A self-proclaimed recluse, Harp spends most of her time practicing the cello, in the hopes of earning a full scholarship that will grant her freedom, but will also send her away from her best friend Connor Williams, who is becoming more than just a friend.
As revelations are made, will Harp still feel the same way about leaving everyone that cares about her behind? Or will she continue to pursue the life she's been dreaming of for as long as she can remember?
The next book is also from NetGalley and it is Can't Look Away by: Donna Cooner. I'm super excited to finally read this one because it is something that is similar to something I really love.
Donna Cooner establishes herself as our own Jodi Picoult in this timely tale of sisters, loss, and redemption.
Torrey Grey is famous. At least, on the internet. Thousands of people watch her popular videos on fashion and beauty. But when Torrey's sister is killed in an accident — maybe because of Torrey and her videos — Torrey's perfect world implodes.
Now, strangers online are bashing Torrey. And at her new school, she doesn't know who to trust. Is queen bee Blair only being sweet because of Torrey's internet infamy? What about Raylene, who is decidedly unpopular, but seems accepts Torrey for who she is? And then there's Luis, with his brooding dark eyes, whose family runs the local funeral home. Torrey finds herself drawn to Luis, and his fascinating stories about El dio de los Muertos, the Day of the Dead.
As the Day of the Dead draws near, Torrey will have to really look at her own feelings about death, and life, and everything in between. Can she learn to mourn her sister out of the public eye?
The next book is Branded by: Abi Ketner & Missy Kalicicki. This is another NetGalley book and I've heard many good things about this book.
Fifty years ago The Commander came into power and murdered all who opposed him. In his warped mind, the seven deadly sins were the downfall of society.
To punish the guilty, he created the Hole, a place where sinners are branded according to their sins. Sinners are forced to live a less than human existence in deplorable conditions, under the watchful eye of guards who are ready to kill anyone who steps out of line.
Now, LUST wraps around my neck like thick, blue fingers, threatening to choke the life out of me. I've been accused of a crime I didn't commit, and the Hole is my new home.
Constant darkness.
Brutal and savage violence.
Excruciating pain.
Every day is a fight for survival.
But I won't let them win. I will not die in the Hole.
I am more than my brand. I'm a fighter. My name is Lexi Hamilton, and this is my story.
Vengeance
How far would you go to get revenge? When Chelsea Givens discovered that her ex-boyfriend Drew dumped her to be with her former best friend Lizzie, she'd never felt so betrayed in her life. Then her new friend Shannon tells her she can help set things right. Chelsea's willing to listen, but what Shannon wants her to believe — that she shared a past life with Drew — is impossible. And what she wants her to do to get him back … well, it's downright crazy. Could Shannon be telling the truth? And if she is, what lengths will Chelsea go if it means making Lizzie pay? Find out in Vengeance, the second part of the Transcend Time Saga.
Timeless
IT'S A RACE AGAINST TIME.
In Remembrance, Lizzie and Drew changed the course of fate so they could be together.
In Vengeance, Chelsea set fate back on its original, deadly path.
Now, strange things keep happening to Lizzie. Things that are omens of darkness to come. A curse has doomed her to die an early death, just as she did in her past life. To make matters worse, even if she can figure out who cast the curse, it's irreversible. There's only one option left for her to save herself. It's crazier than anything she's heard yet, and to do it, she'll need Drew and Chelsea's help.
Because to make things right, they must travel back to when it all began … and Lizzie discovers that the final events in her past life were more sinister than she ever imagined.
Kitty Hawk and the Curse of the Yukon Gold
Kitty Hawk and the Curse of the Yukon Gold is the thrilling first installment in a new series of adventure mystery stories that are one part travel, one part history and five parts adventure. This first book of the Kitty Hawk Flying Detective Agency Series introduces Kitty Hawk, an intrepid teenage pilot with her own De Havilland Beaver seaplane and a nose for mystery and intrigue. A cross between Amelia Earhart, Nancy Drew and Pippi Longstocking, Kitty is a quirky young heroine with boundless curiosity and a knack for getting herself into all kinds of precarious situations.
After leaving her home in the western Canadian fishing village of Tofino to spend the summer in Alaska studying humpback whales Kitty finds herself caught up in an unforgettable adventure involving stolen gold, devious criminals, ghostly shipwrecks, and bone-chilling curses. Kitty's adventure begins with the lingering mystery of a sunken ship called the Clara Nevada and as the plot continues to unfold this spirited story will have armchair explorers and amateur detectives alike anxiously following every twist and turn as they are swept along through the history of the Klondike Gold Rush to a suspenseful final climatic chase across the rugged terrain of Canada's Yukon, the harsh land made famous in the stories and poems of such writers as Jack London, Robert Service and Pierre Berton. It is a riveting tale that brings to glorious life the landscape and history of Alaska's inside passage and Canada's Yukon, as Kitty is caught up in an epic mystery set against the backdrop of the scenery of the Klondike Gold Rush.
Kitty Hawk and the Curse of the Yukon Gold is a perfect book to fire the imagination of readers of all ages. Filled with fascinating and highly Google-able locations and history this book will inspire anyone to learn and experience more for themselves as Kitty prepares for her next adventure – flying around the world!
The next books are for blog tours. So the first book is Uncovering Cobbogoth.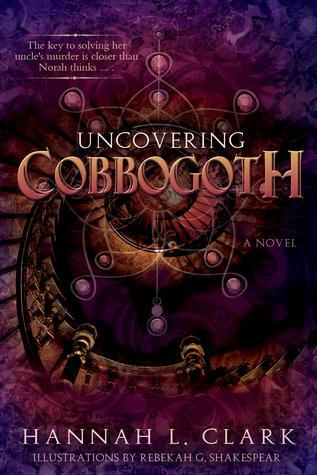 Norah Lukens needs to uncover the truth about the fabled lost city of Cobbogoth. After her archaeologist uncle's murder, Norah is asked to translate his old research journal for evidence and discovers that his murder was a cover-up for something far more sinister.
When she turns to neighbor and only friend James Riley for help, she realizes that not only is their bitter-sweet past haunting her every step, but James is keeping dangerous secrets. Can Norah discover what they are before its too late to share her own.
The Lost Kingdom
A Prophecy made long ago, announced the arrival of the new Ladies of Elements.
And now almost a millennia later, it finally came true …
All her life Arima thought she knew who and what she was. That is until the day of her sixteenth birthday came and her world is turned upside down, when she's told she's not a White Witch but Lady Spirit. And that she is the one that has been foretold, will unite the Five Ladies of Elements once again and save Ilendia and the Other Lands from Ahriman, the Demon King.
At first Arima refuses to accept her new fate, but when Shanums come and destroy her village and kill her loved ones, she has no choice but to flee and fall right into the destiny she never wanted.
As she grudgingly starts her journey into the unknown, she is accompanied by her unicorn familiar Sirrim, Blythe, a Vampire with a dark past and Myrddin, a mysterious Ljosalfar.
And the longer her journey lasts, the more Arima begins to realise that she can't escape her own destiny and she must learn to control her powers and learn to be a Lady for the sake of the Sisters she doesn't know and the people of Ilendia and the Other Lands.
However, things get more complicated when Arima comes into the possession of a key. Her instincts compel her to go towards danger when she discovers that the key she holds, can unlock the legendary kingdom of Eléssima, the home of the Ladies of Elements.
She will have to make the choice to follow her instincts …
…or stay on the path that has been laid out for her
Finding Keepers
Starting a new life is never easy, but Alyssa Doe has t urned it into an art form. Abandoned by her parents at age ten, six years in foster care has taught Alyssa how to get through life the hard way.
Now sixteen and growing desperate for a stable life, Alyssa finds herself puzzled by her newest keeper, twenty-five year old Jessica Sona. A feisty woman who won't accept no for an answer, Jessica's insistence on safety, family, and unconditional love begin to break down Alyssa's walls and bring her hope, a dangerous emotion.
Can such a thing as family and love exist for a girl whose birth name is Doe, or will Alyssa be forever left finding keepers?
---
 Thanks for reading!!