The Giver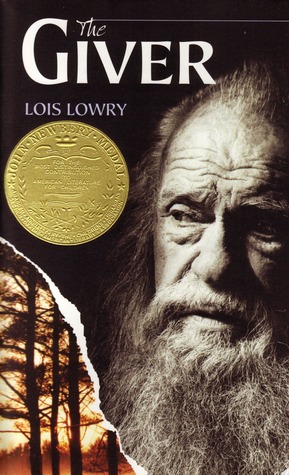 Jonas' world is perfect. Everything is under control. There is no war or fear or pain. There are no choices. Every person is assigned a role in the Community. When Jonas turns twelve, he is singled out to receive special training from The Giver. The Giver alone holds the memories of the true pain and pleasure of life. Now, it is time for Jonas to receive the truth. There is no turning back.
Publisher: Random House Children's Books
Publication date: 1/24/2006
Series: Giver Quartet Series , #1
Pages: 208
Age range: 12 – 17 Years
| Amazon | Barnes and Noble | Book Depository |
I read this book for Booktube-a-thon and I finished this within 3 1/2 hours to finish. And within that 3 1/2 hours I read such a great book. I really liked how much power this book had within 200 pages. The character development was just right and the world that these people is crazyyyyy. I really liked how this world they lived in took place. The movie is coming out in August. Am I going to watch it? Probably not. Did I enjoy it? YES! Definitely. If you have a chance to read it…Read it! It's a short and fast read. Hope you enjoy it as much as I do!
 I really hope that I enjoy the rest of this quartet . This book had such a great plot. I really liked this world that Lois has created. How everything is in and plain, I guess. There were some things that I did get confused on. It took me a while to understand that the people in this world couldn't see color or something… That's how I see it. You might see it differently but I did get confused. Another part that I was very confused or unsure about was the time between Jonas talking about his escape and him actually escaping with Gabriel. Now I was talking to someone who already read the book and he said that it was "something you're supposed to imagine." Now that is something I personally don't really prefer. Now it's just a time where I know what was supposed to happen but i'm assuming everything went smoothly.
The keeper-of-memories-job job i'm assuming is very important. THEY FREAKIN DIDN'T ALLOW KEEPER PEOPLE  TO BE KILLED…(I read this a while ago [ahem ahem a week ago] and I might not remember anything) I honestly didn't like that The Giver's daughter just went to get killed when she had some memories. Poof and they're gone. There are so many things that I would like to know about The Giver. I'm assuming that he had a wife but she either died or was sent to the home where you go when all your kids have grown up.
The world that Jonas lives in is very controlled. You aren't very free when it comes to this world. You don't get to choose who you marry, where you live, what kid you had, where you worked. They had the world very under control. I just hated how you couldn't have your one kids and kids that weren't worthy were just killed. I also was so annoyed how some people felt toward birthmothers. Jonas parents basically called that job the worse job ever. I really was bothered by that and I know some people will be telling me to lay of it just a book but I think that the birthing job is the most important. It was also very interesting how you get a certain item when you turn a certain age. Like how the girls got their hair cut off at a certain age. I do wonder what our world would be like if we got a certain item at a certain age…..
One last thing…will I continue to read on with this series….? Yes, I will and I want to marathon the next 3 books and hopefully I enjoy it. Thanks for reading and hope you enjoyed the book as much as I did.
Lois Lowry
Lois Lowry is known for her versatility and invention as a writer. She was born in Hawaii and grew up in New York, Pennsylvania, and Japan. After several years at Brown University, she turned to her family and to writing. She is the author of more than thirty books for young adults, including the popular Anastasia Krupnik series. She has received countless honors, among them the Boston Globe-Horn Book Award, the Dorothy Canfield Fisher Award, the California Young Reader.s Medal, and the Mark Twain Award. She received Newbery Medals for two of her novels, NUMBER THE STARS and THE GIVER. Her first novel, A SUMMER TO DIE, was awarded the International Reading Association.s Children.s Book Award. Ms. Lowry now divides her time between Cambridge and an 1840s farmhouse in Maine. To learn more about Lois Lowry, see her website at http://www.loislowry.com
---